My cat is damaging my furniture by scratching it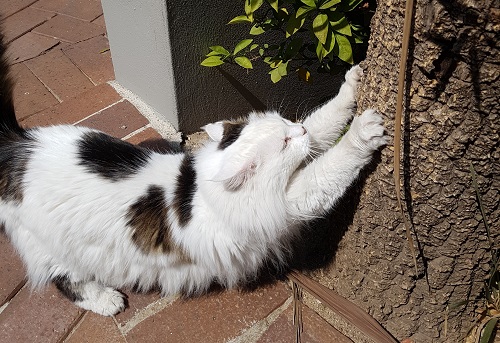 Should I declaw my cat?
Many people think that declawing a cat means that you cut the nails really, really short so that they do not have the capacity to grow again. Nothing could be further from the truth. When a cat is declawed, the greater part of the last digit of its toe is amputated. Cats' nails are attached to the last digit on their feet and one cannot effectively remove the nail, without also removing the greater part of the digit itself. There are muscles and tendons attaching to the bone of the last digit and some of the bone should be left intact for the foot to function normally after the procedure. If one was to do a similar procedure in a human, it will be like removing the tip of your finger just in front of the first knuckle.




My Boerboel with its long tail really looks strange. I much prefer a Boerboel with a short tail.
Tail Docking in dogs - Why we as vets do not routinely do it anymore
To start off with let's define what we are talking about when we are talking about tail docking in dogs.

Tail docking from a veterinary perspective refers to a surgical procedure done to puppies between the ages of 3 to 5 days old, where a portion or partial length of the tail is amputated or cut off with a scalpel or surgical scissors, bleeding is stopped by cauterisation or tying off of bleeding blood vessels with absorbable suture material, and placing a suture or sutures in the skin to close off the wound.




My dog makes a strange snorting sound with funny gagging movements almost like something is stuck in his/her throat.
Reverse Sneezing in dogs
What is reverse sneeze?
Reverse sneezing is repetitive, forceful inspiratory (breathing in) efforts generally caused by irritation of the lining of the naso-pharynx or area at the back of the mouth and nose where these two openings join into one. Unlike a normal sneeze where air is forcefully pushed out the nose to clear the irritation, a reverse sneeze involves air being pulled forcefully and rapidly into the nose. This is commonly seen in small and toy breeds breeds with long thin nasal passages like Miniature Pinchers, Toy Poms, Chihuahuas, Malteses, Dachshunds, Poodles, Yorkshire Terriers and other Terriers, etc., and brachycephalic (short nose) breeds like Pugs, Boston Terriers, Shih Tsus, Pekingeses, etc.




Is Tick Fever and Tick Bite Fever the same disease in dogs?
Erlichiosis (Tick bite fever) in dogs
It is not. Tick fever or Babesios in dogs, is not the same disease as Tick bite fever or Erlichioses. Both diseases are transmitted to dogs by ticks, but they are caused by two totally different organisms or parasites and the clinical signs, progress and treatment are very different.

To further confuse the matter, Tick Bite Fever in humans is not the same as Tick Bite Fever in dogs and once again, although transmitted by ticks, is caused by a complete difference parasite. Tick Bite Fever in dogs is not transmissible to humans or vice versa.




What do I feed my dog, how much and when?
Nutrition in dogs: guidelines to a well-fed pooch
Feeding your dog an appropriate well balanced diet for its life stage is vital to good health and wellbeing. Nutrient requirements differ depending on the breed and age of the dog and there are a few important factors to take into consideration.

Many people see dogs and cats as a similar kind of animal and therefore it is useful to understand the difference between the two species to better understand how to feed your dog properly.




Can my kitten make me sick?
Cat Scratch Disease
There are many diseases that can be transmitted from animals to humans. These diseases are called zoonotic diseases. Although the list below is by no means comprehensive, some of the more common diseases that we can get from our household pets are:
Ringworm, which is a fungal infection of the skin
Hook worm, roundworm and tapeworm infection
Toxoplasmosis
Cat scratch disease
Scabies, a mite that causes severe itchiness and skin lesions
In this article we are going to look at cat scratch disease (CSD), the cause of it, the symptoms and how to prevent it. Cat scratch disease, or cat scratch fever, is caused by an organism called Bartonella henselae or formerly called Rochalimaea henselae. It is a small anaerobic (organism which does not need oxygen to survive), gram-negative, non-motile bacterium. Domestic cats are the natural hosts for this organism and the animal from which humans can contract the disease (also known as the vector). If a cat harbors this bacterium, the cat very rarely shows any signs of the disease which is described as asymptomatic. It is therefore impossible to tell if a cat is infected with this organism without further testing. Fleas are the organism responsible for transmission of the disease between cats and therefore flea control is one of the best ways to prevent this disease. The infection rate is much higher in a population of cats that are flea ridden and can be as high as 61%. As a cat scratches and bites at fleas, the organism gets stuck between their teeth and under their nails. Kittens younger than 12 months are 15 times more likely to carry the infection than adult cats.




My dog did not go out of the yard and is now limping lame on one of his hind legs
Anterior cruciate ligament rupture in dogs
Often time vets are confronted with this situation in veterinary clinics. As far as the owner knows their dog would not have been subject to any trauma, yet they can hardly take weight on one of their back legs. There are many possible causes but by far one of the most common reasons for this situation occurring is a tear of the major small ligament inside the knee.




A sugar substitute fit for humans, which can be lethal to your dog
Xylitol Toxicity
What is xylitol and where can it be found?
Xylitol is a natural sugar alcohol that is commonly used as a sugar substitute in human foods. It is found in and extracted from corn fiber, birch trees, hardwood trees as well as other fruits and vegetables.

Xylitol is a sugar substitute most commonly found in chewing gum, candies, breath mints, baked goods, cough syrup, children's edible vitamins, mouth wash and tooth paste (all of the sugar free variety). There are many more human products on the market that may contain xylitol. It may also be purchased in a granulated form to be used for baking, or as a sweetener over cereals and in beverages. As society's pressure to look lean and slim, and the need to diet increases, this sugar free alternative has grown drastically in popularity over the last decade.




False Pregnancy
Pregnancy
False pregnancy, also known as Phantom pregnancy or Pseudo-pregnancy, is a condition of both dogs and cats, whereby the unsterilised female animal (regardless of whether she was mated or not) shows some or all of the typical signs of pregnancy but is not really pregnant. In other words, she shows mammary gland development (with or without milk production) but does not produce any offspring.




Lameness in old dogs
Lameness
As a dog gets older, he or she may start to struggle to get up or get a little slower on walks. You may notice that they are worse in winter than in summer or after resting for a prolonged period. Sometimes they may not to be able to place any weight on a leg at all and this may happen quite suddenly. Lameness in older dogs can be broadly placed in three categories: