My dog makes a strange snorting sound with funny gagging movements almost like something is stuck in his/her throat.
Reverse Sneezing in dogs
What is reverse sneeze?
Reverse sneezing is repetitive, forceful inspiratory (breathing in) efforts generally caused by irritation of the lining of the naso-pharynx or area at the back of the mouth and nose where these two openings join into one. Unlike a normal sneeze where air is forcefully pushed out the nose to clear the irritation, a reverse sneeze involves air being pulled forcefully and rapidly into the nose. This is commonly seen in small and toy breeds breeds with long thin nasal passages like Miniature Pinchers, Toy Poms, Chihuahuas, Malteses, Dachshunds, Poodles, Yorkshire Terriers and other Terriers, etc., and brachycephalic (short nose) breeds like Pugs, Boston Terriers, Shih Tsus, Pekingeses, etc.




I found a loose stool with blood and what looks like jelly on the kitchen floor this morning - what do I do?
Acute and Chronic colitis in dogs and cats
What is Acute Colitis?
Acute colitis is a common condition in pets and is characterised by a sudden onset colonic inflammation with a diarrhoea that may contain mucous and/or fresh blood.
Clinical signs
The most common symptoms are straining when defecating, mucous (the jelly you noticed) and/or blood in the stool, and increased frequency of defecation. Systemic signs of illness are generally absent and most animals are still alert, active and have normal appetites in spite of having colitis.




Is Tick Fever and Tick Bite Fever the same disease in dogs?
Erlichiosis (Tick bite fever) in dogs
It is not. Tick fever or Babesios in dogs, is not the same disease as Tick bite fever or Erlichioses. Both diseases are transmitted to dogs by ticks, but they are caused by two totally different organisms or parasites and the clinical signs, progress and treatment are very different.

To further confuse the matter, Tick Bite Fever in humans is not the same as Tick Bite Fever in dogs and once again, although transmitted by ticks, is caused by a complete difference parasite. Tick Bite Fever in dogs is not transmissible to humans or vice versa.




Is your pet safe?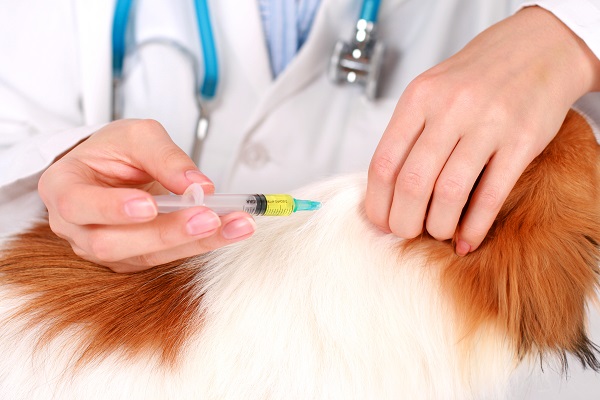 Fatal Diseases that can easily be prevented
Fatal Diseases that can easily be prevented
There are some fairly common fatal diseases in animals which can and should be prevented wherever possible. This article looks at how these diseases present, what they lead to and most importantly how they could be prevented. Today we have more information about our animals and the diseases they may suffer from than ever before. With this knowledge comes the means of preventing these conditions that years ago would have meant certain death to our beloved pets. The most important means of disease prevention readily available to us is vaccination. A simple annual health check and vaccinations can help ensure your pet lives a long and healthy life. Other important means of prevention includes regular deworming as well as tick and flea treatment.




Old man's gland - Do dogs have the same problems as humans?
Prostate disease in the dog
The prostate is the only accessory sex gland in the male dog. It is a butterfly shaped structure that surrounds the urethra (the tube that connects the bladder to the outside). Due to the location of the prostate, it can affect the urinary system, the colon and the hind legs, as well as having some systemic effects. Prostatic fluid is produced continuously in the dog. Prostatic fluid makes up most of the volume of seminal fluid (the fluid that carries semen). The prostate has many nerves and blood vessels running to it but is surrounded by a thick capsule, which sometimes makes it difficult for some drugs to get deep down into the prostate. Normal prostatic function is dependent on circulating testosterone. The prostate can develop a few conditions that can result in debilitating disease in the dog.




My young cat seems ill
Feline Infectious Peritonitis
Feline infectious peritonitis (FIP) is a serious and most often fatal disease affecting cats. It is most commonly seen in young cats between the ages of six months and two years. It has been found to affect male cats more commonly than females and purebred cats particularly the Asian breeds are more susceptible. It is characterised by fluid build-up in body cavities such as the chest and abdomen and neurological signs. It can affect all major organs and inevitably results in death. It may be referred to as Feline coronavirus polyserositis (wet or effusive form) or granulomatous feline infectious peritonitis (dry or non effusive form).




Can humans get worms from dogs and cats?
Zoonotic helminths – Worms which humans can get from pets
Have you ever wondered if humans can get worms from dogs and cats? You don't have to wonder any longer, the answer is 'yes'. In this overview we look at which worms can be transmitted between pets and humans, what diseases they cause and how to prevent this potential health risk.

Firstly when a disease or parasite can be transmitted from animals to humans it is called a zoonosis. It is often a concern when a pet is diagnosed with intestinal worms whether the family is at risk of contracting the parasite. The concern is valid but the good news is that it is easily managed with education, proper precautions and a well organised deworming program for your pets.




My pet has red urine - what does it mean?
Bladder Stones
Bladder stones is a condition that occurs in dogs and cats of various ages, sex and breeds. Bladder stones are also called urinary calculi or uroliths. These are mineral like formations that form anywhere in the urinary tract, including kidneys, ureters, bladder and urethra. The most frequent location is the bladder.

Clinical signs of bladder stones to look out for
Dogs with bladder stones often present like dogs with a bladder infection. Both of these conditions will show frequent urination as well as discomfort, particularly when urinating. The animal will squat to urinate frequently, often only passing small amounts of urine while straining. The owner might also see a red discoloration in the urine and in some cases the urine can be a dark red colour. Because the stones rub against the bladder wall it causes irritation and inflammation of the bladder wall that leads to bleeding. Some dogs will show discomfort and pain when walking, with the hindquarters tucked in, while cats can become very vocal when in pain. In some cases the stones may still be very small and can leave the bladder and enter the urethra. The urethra is the tube that directs urine from the bladder to the outside. If the stone is not small enough to pass, it will become lodged in the urethra, blocking urine flow completely. The pressure will build up in the bladder and the kidneys, and if this is not corrected quickly, the bladder can rupture. This will cause severe illness and if quick intervention is not done it may lead to death.




Feline Leukaemia Virus (FeLV) infection in cats
Feline Leukaemia
Introduction
Feline leukaemia (FELV) is a disease of cats caused by a virus called a retrovirus. It is called a retrovirus because of the method it uses to replicate inside the cat. It is the same type of virus as the human immunodeficiency virus and although there are a lot of disease similarities, several studies have shown that the disease is not transmissible to humans. FeLV is one of the most dangerous diseases that affect cats and is a major cause of death in cats. Fortunately the prevalence of the disease has decreased in recent years due to the use of vaccines against the disease and the ability of vets to diagnose the disease early and accurately.




Cat Aids
Feline Immuno Deficiency Virus
How does Feline Immunodeficiency Virus (FIV) compare to Human Immunodeficiency virus (HIV)?
Feline immunodeficiency Virus (FIV) has similar building blocks and is related to Human Immunodeficiency Virus (HIV), but very importantly, it cannot be passed between cats and humans. The virus can also not be transmitted from cats to dogs. Both FIV and HIV viruses share a similar pattern of disease progression. Both viruses are classified as Lentivirus, which means they have a long period of showing very few clinical signs during which time the immune system deteriorates. Eventually Acquired Immunodeficiency Syndrome (AIDS) develops and this is accompanied by opportunistic infections, systemic disease and cancer. The close relationship between FIV and HIV has meant that FIV has been used as an animal study model to better understand HIV in humans.